HOME/ SWORDS/ BERSERKER
/ DRACULA/ SCIENCE FICTION / FANTASY /GODS
BERSERKER DEATH : MEGA BOOK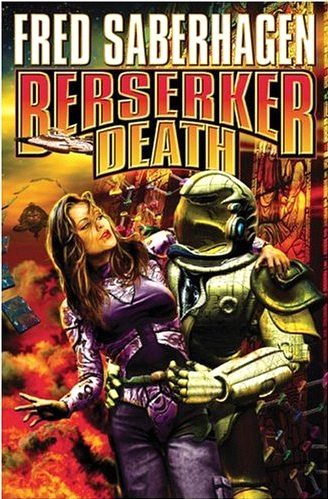 BERSERKER is a registered trademark of JSS Literary Productions and can not be used without permission.
---

BERSERKER DEATH : MEGA BOOK
by Fred Saberhagen
Published by Baen Books
Copyright (c) 2005 by Fred Saberhagen
Individual copyrights (c) 1967 - 1993 by Fred Saberhagen
Jacket art by: Kurt Miller. Cover design by Carol Russo Design
ISBN:0-7434-9885-0

Ages ago, perhaps before the human race even existed, two war-maddened races fought -- and though both are extinct, their Frankenstein weapon, the Berserkers, robotic asteroid-sized warships, still follow their program. And now the relentless death machines have crossed the galaxy, to encounter an equally relentless opponent: humans . . .

Three complete novels set in a seemingly endless war against death itself:

THE BERSERKER WARS: The millennium-long battle between humans and the killing machines, with heroes, cowards, villains -- and even a prankster.

BERSERKER: BLUE DEATH: One revenge-obsessed man fanatically pursues the great blue Berserker that men call Leviathan.

BERSERKER KILL: A Berserker has stolen a biolab filled with human zygotes. Can its pursuers discover its secret plan before it's too late ?

--From the paper edition blurb.
---
BERSERKER DEATH : MEGA BOOK
by Fred Saberhagen
For excerpts see the individual titles.
Also, the short story Wings Out of Shadow (an abreviated version illustrated by Eddie Johnson)
appears in its entirety in BERSERKER WARS.
---