HOME/ SWORDS/ BERSERKER
/ DRACULA/ SCIENCE FICTION / FANTASY /GODS
BERSERKER MAN : MEGA BOOK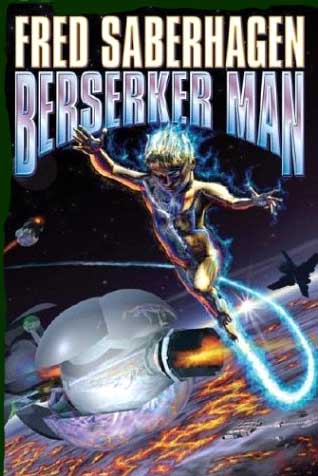 BERSERKER is a registered trademark of JSS Literary Productions and can not be used without permission.
---

BERSERKER MAN: MEGA BOOK
by Fred Saberhagen
Published by Baen Books
Copyright (c) 2004 by Fred Saberhagen
Jacket art by: Kurt Miller
ISBN: 0-7434-9878-x

For countless millennia the dreadful Berserker fleets have ranged across the galaxy in a relentless war against all things living. Their equally relentless opponent has been the human race, with its heritage and instinct of battle, facing the enemy of all life.

Here are four battles in the war between humans and the pwerful death machines.

BERSERKER'S PLANET : A lone rebel, armed only with medieval weaponry, hasn't a chance against a might Berserker -- or does he ?

THE BERSERKER THRONE : An exiled prince plans to use a Berserker and return to power -- but can a mere human really control a Berserker?

BROTHER ASSASSIN : The Berserkers reach back through time to change history and only one man has a prayer of stopping them.

BERSERKER MAN : This time, the killer machines may succeed in eradicating humanity from the galaxy -- unless they can be stopped by a child who is half man and half machine.

--From the Cover blurb.
---
A brief excerpt

BERSERKER MAN : MEGA BOOK
by Fred Saberhagen

See postings for the individual titles.
---