HOME/ SWORDS/ BERSERKER
/ DRACULA/ SCIENCE FICTION / FANTASY /GODS

VLAD TAPES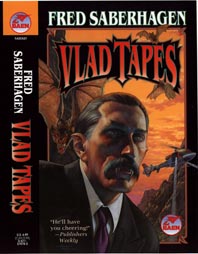 ---
VLAD TAPES by Fred Saberhagen
Published by Baen Books
Copyright (c) 2000 by Fred Saberhagen
Jacket art by: Stephen Hickman.
ISBN: 0-671-57878-2

A hundred years ago Count Dracula, Vlad Tepes to some, joined forces with Sherlock Holmes in a pact of blood and honor. Herein his new biographer picks up the thread of the Count's adventures.

BOOK I: OLD FRIEND OF THE FAMILY As an old friend of the family, Dracula is faced with a nest of evil vampires -- evil enough, as the Count can attest, to make a vampire shudder.

BOOK II: THORN Five hundred years ago their paths first crossed. He possessed her totally, not quite against her will. Until she fled. And was captured. And was punished. And is fleeing still.
---
A brief excerpt:

"You'll have to hold me," she whispered, shivering violently. "I'm here and I can't help myself, you know. At least, hold me so I won't be so cold."
He luaghed. "Oh, I'll hold you, okay. You'l get to like it here. Think of it as home, maybe, even . . ."
Then he seemed to descend upon her like a great slow wave from the black lake . . .
There were feet on the stairs, several heavy people coming up. Voices outside the door, then in the room with her. They'll take me home, Kate thought, they'll snap me out of this.
One took her arm to lift it. But it clung to her side, resisting his pull without the least effort on her part.
He said, "My own guess is two, three days since she died."
---