HOME/ SWORDS/ BERSERKER

/ DRACULA/ SCIENCE FICTION / FANTASY /GODS
EMPIRE OF THE EAST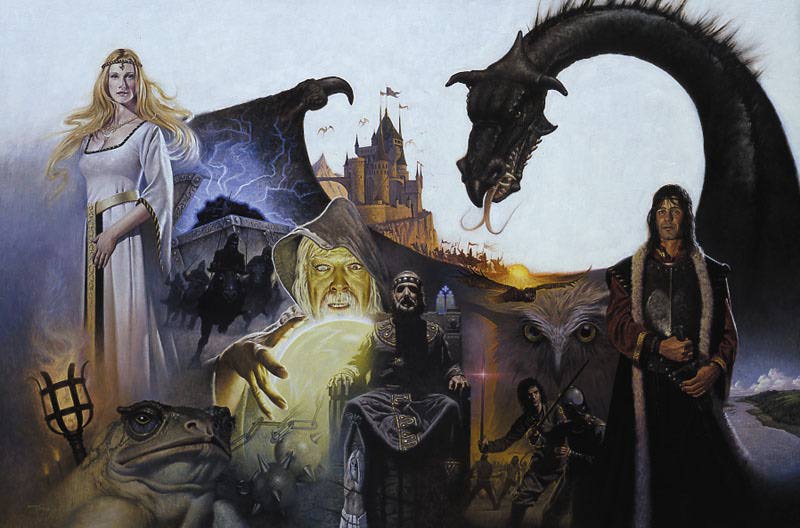 ART WORK FOR THE 2003 TOR EDITION OF EMPIRE OF THE EAST
ARTIST: Vince Natale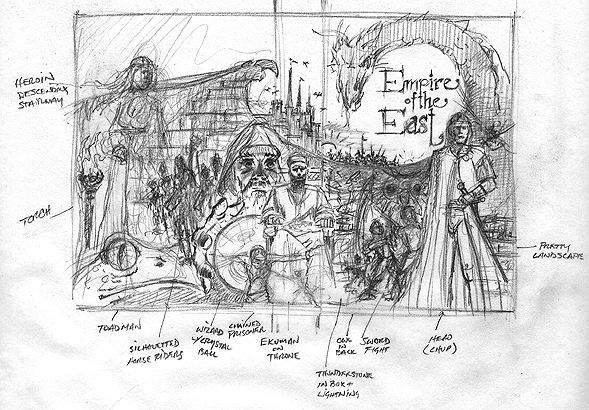 Sketch for the upcoming Tor edition of EMPIRE OF THE EAST
EMPIRE OF THE EAST
Ace Edition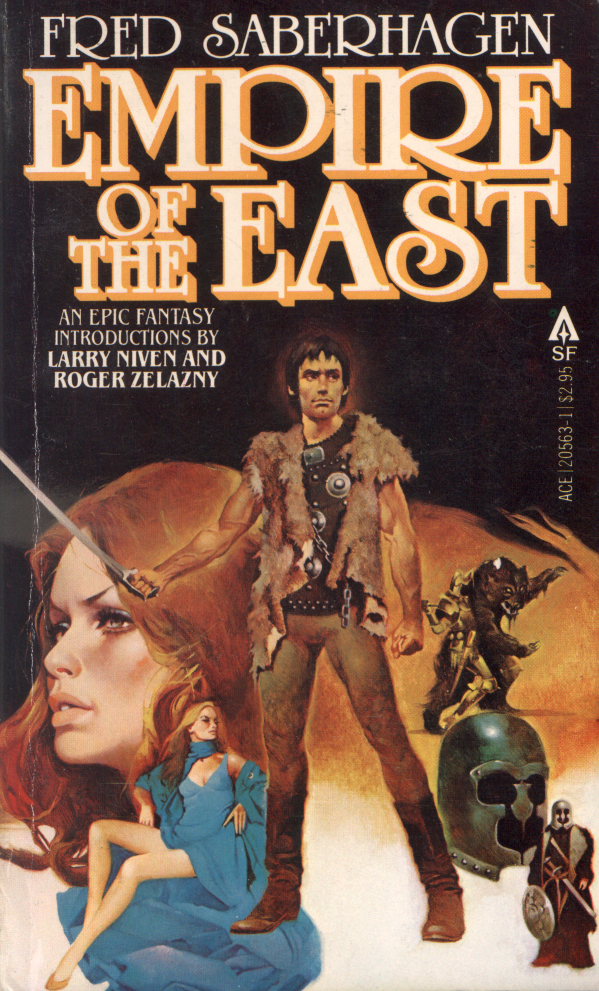 ---
Description

EMPIRE OF THE EAST
by Fred Saberhagen
Published by: Ace, Oct 1979, Macdonald, 1984, Baen, April 1990
Copyright (c) 1979 by Fred Saberhagen
Jacket art by: Ace edition - Enric
ISBN: Ace -- 0-441-20563-1-295, Macdonald -- 0-356-10190-8, Baen -- 0-671-69871-0


Parts of this work have been published in substantially different form as:

THE BROKEN LANDS, copyright © 1968 by Fred Saberhagen
THE BLACK MOUNTAINS, copyright © 1971 by Fred Saberhagen
CHANGELING EARTH, copyright ©1973 by Fred Saberhagen



A unique adventure in a world on the brink of ultimate change, a world in which magic rules -- and science struggles to live again. A masterful blend of high technology and high sorcery combined to create a classic epic of science fantasy, where demons, djinns and wizards exist side by side with the remnants of the machine age.l

--From the Inside cover flap of Macdonald edition.
---
Reviews

EMPIRE OF THE EAST
by Fred Saberhagen

School Library Journal (quoted on back cover of Baen edition)
Ranks favorably with Tolkien. Exceptional in sheer unbridled zest and imaginative sweep. Saberhagen's style is noteworthy for its detail, the depth and humor of his characterizations and his ability to imbue villains with wicked charm.

Roger Zelazny
A fine mix of fantasy and science fiction, action and speculation.

Science Fiction Review (quoted on back cover of Baen edition)
EMPIRE OF THE EAST is one of the best science fiction fantasy epics -- Saberhagen can be justly proud. Highly recommended.
---
A brief excerpt

EMPIRE OF THE EAST
by Fred Saberhagen

HEAR ME, EKUMAN !

"Hear me, for I am Ardneh! Ardneh, who rides the Elephant, who wields the lightning, who rends fortifications as the rushing passage of time consumes cheap cloth. You slay me in this avatar, but I live on in other human beings. I am Ardneh, and in the end I will slay thee, and thou wilt not live on.

"Hear me, Ekuman. Neither by day nor by night will I slay thee. Neither with the blade nor with the bow. Neither with the edge of the hand . . . nor with the fist. Neither with the wet . . . nor with the dry . . ."

Ekuman strained to hear more, but the old lips had ceased to move. Now only the flicker of torchlight gave the illusion of life to the victim's face, as it did to the face of the dead torturer at his feet.
---