HOME/ SWORDS/ BERSERKER

/ DRACULA/ SCIENCE FICTION / FANTASY /GODS
THE BROKEN LANDS
EMPIRE OF THE EAST: Book I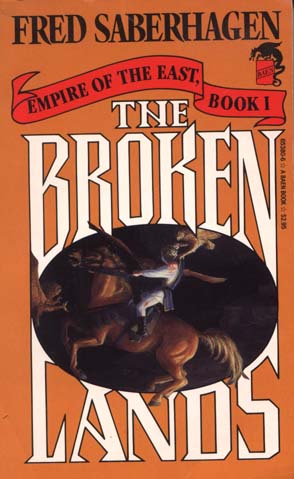 ---
Description

THE BROKEN LANDS
by Fred Saberhagen
Published by Baen
Copyright (c) 1968 by Fred Saberhagen
Jacket art by: Jane Walker
ISBN: 0-671-65380-6

Hear me, Ekuman !

Hear me, for I am Ardneh! Ardneh, who rides the Elephant, who wields the lightning, who rends fortifications as the rushing passage of time consumes cheap cloth. You slay me in this avatar, but I live on in other human beings. I am Ardneh, and in the end I will slay thee, and thou wilt not live on.

Hear me Ekuman. Neither by day nor by night will I slay thee. Neither with the blade nor with the bow. Neither with the edge of the hand . . . nor with the fist. Neither with the wet . . . nor with the dry.

Ekuman strained to hear more, but the old lips had ceased to move. Now only the flicker of torchlight gave the illusion of life to the victim's face, as it did to the face of the dead torturer at his feet.

--From the Cover blurb.
---
Reviews

THE BROKEN LANDS
by Fred Saberhagen

Raves for EMPIRE OF THE EAST

Ranks favorably with Tolkien. Exceptional in sheer unbridled zest and imaginative sweep. Saberhagen's style is noteworthy for its detail, the depth and humor of his characterizations, and his ability to imbue even villains with wicked charm. -- School Library Journal

Surely Saberhagen's best work yet. Highly recommended. -- Science Fiction and Fantasy Book Review
---
A brief excerpt

THE BROKEN LANDS
by Fred Saberhagen

To be posted.
---