HOME/ SWORDS/ BERSERKER

/ DRACULA/ SCIENCE FICTION / FANTASY /GODS
THE BLACK MOUNTAINS
EMPIRE OF THE EAST: Book II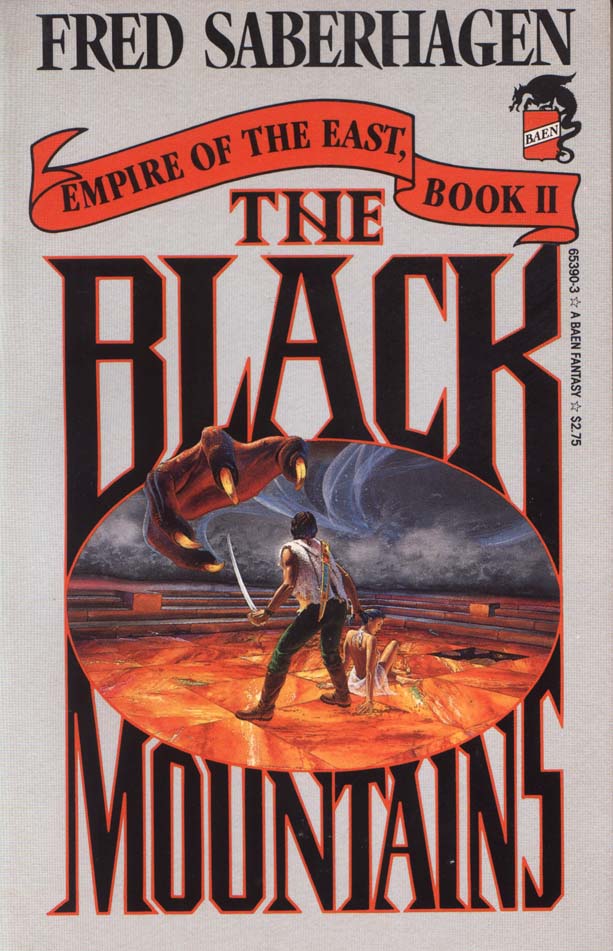 ---
Description

THE BLACK MOUNTAINS
by Fred Saberhagen
Published by Baen
Copyright (c) 1971 by Fred Saberhagen
Jacket art by: Robert Stein III
ISBN:0-671-65390-3


The Demon Lord Zapranoth will devour you, if the Beast Lord Draffut cannot save you -- but either way the Bitch Goddess Charmian will have your soul . . .


STRIKE OFF MY HEAD !

Chup begged the Lady Charmian; then he turned and knelt down slowly, face toward the cliff. Charmian was at his right, holding the long blade point down at the ground. He said, "Now, about this little surgery I need . . . I suppose a single stroke would be too much to ask for. But more than two or three should not be needed, the blade is heavy and quite sharp." Without turning to see her face he added, "You are the most beautiful, and most desirable by far, of all the women I have ever known."

From the corner of his eye he saw Charmian losing her hesitation, gathering resolve, straightening her thin wrists in a tight two-handed grip to lift the weapon's weight. Chup studied the details of the rock wall before him.

He had knelt down facing this way so that his head would not roll over --

Enough of that. He was Chup. He would not even close his eyes.

--From the Cover blurb.
---
Reviews

THE BLACK MOUNTAINS
by Fred Saberhagen

Raves for EMPIRE OF THE EAST:

"EMPIRE OF THE EAST is one of the best science fantasy epics -- Saberhagen can be justly proud. Highly recommended." -- Scinece Fiction Review

"Surely Saberhagen's best work yet. Highly recommended." -- Science Fiction and Fantasy Book Review
---
A brief excerpt

THE BLACK MOUNTAINS
by Fred Saberhagen

To be posted.
---