HOME/ SWORDS/ BERSERKER

/ DRACULA/ SCIENCE FICTION / FANTASY /GODS
THE BOOKS OF THE GODS
Part Two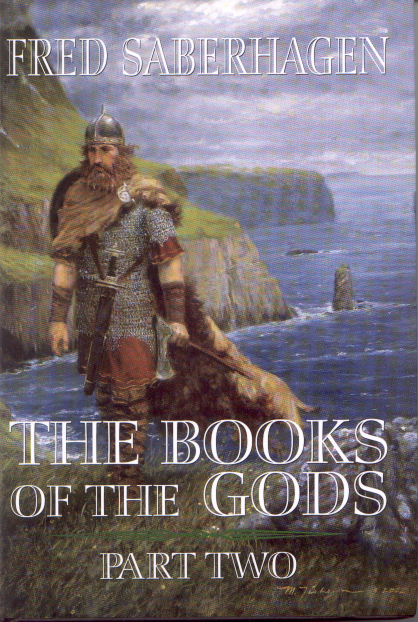 ---
Description

THE BOOKS OF THE GODS: Part Two
by Fred Saberhagen
Published bySFBC Fantasy First printing September 2002

Copyright (c) by Fred Saberhagen GOD OF THE GOLDEN FLEECE, 2001. GODS OF FIRE AND THUNDER, 2002.
Jacket art by:Marc Fishman

ISBN: 0-7394-2995-7


In THE BOOKS OF THE GODS, Part One, Fred Saberhagen put his own inventive spin on the classic tales of Greek mythology. THE BOOKS OF THE GODS, Part Two collects two more books in the series--thrilling adventures that revisit the gods and heroes of Ancient Greece and then turn northward to explore an entirely different pantheon--the fearsome deities of Valhalla.

Centuries ago, it seemed the gods had disappeared from the world. Now, suddenly, they're back--at large among mankind thanks to mysterious masks that merge with the mortals who try them on.

GOD OF THE GOLDEN FLEECE. A man has come out of the sea, brain-damaged in a fight with a terrible giant. He remembers little other than his name--Proteus--and that he has been sent to join Jason and the Argonauts as they embark on the greatest journey the world has ever known. But Jason doesn't know that there's a god among the crew--something else Proteus has forgotten...

GODS OF FIRE AND THUNDER. After his adventures with Jason, Haraldur the Northman wants nothing more to do with gods and quests--until he stumbles upon an impenetrable wall of eldritch fire and a lovesick youth determined to breach the wall at any cost. Behind the flames, Hal is told lies a beautiful Valkyrie trapped in an enchanted sleep. . . and a treasure beyond mortal reckoning. Tempted by the scent of gold, Hal agrees to help the young man. But to find a way past the fiery wall, they must first brave gnomes, ghosts, and the wrath of Wodan--the almighty Lord of Battles.

--From the Cover flap.
---
Reviews

THE BOOKS OF THE GODS, Part Two
by Fred Saberhagen

Unavailable.
---
A brief excerpt

THE BOOKS OF THE GODS, Part Two
by Fred Saberhagen

See the link for the individual books comprising this collection.

GOD OF THE GOLDEN FLEECE
GODS OF FIRE AND THUNDER
---