HOME/ SWORDS/ BERSERKER

/ DRACULA/ SCIENCE FICTION / FANTASY /GODS
ARDNEH'S WORLD
EMPIRE OF THE EAST: Book III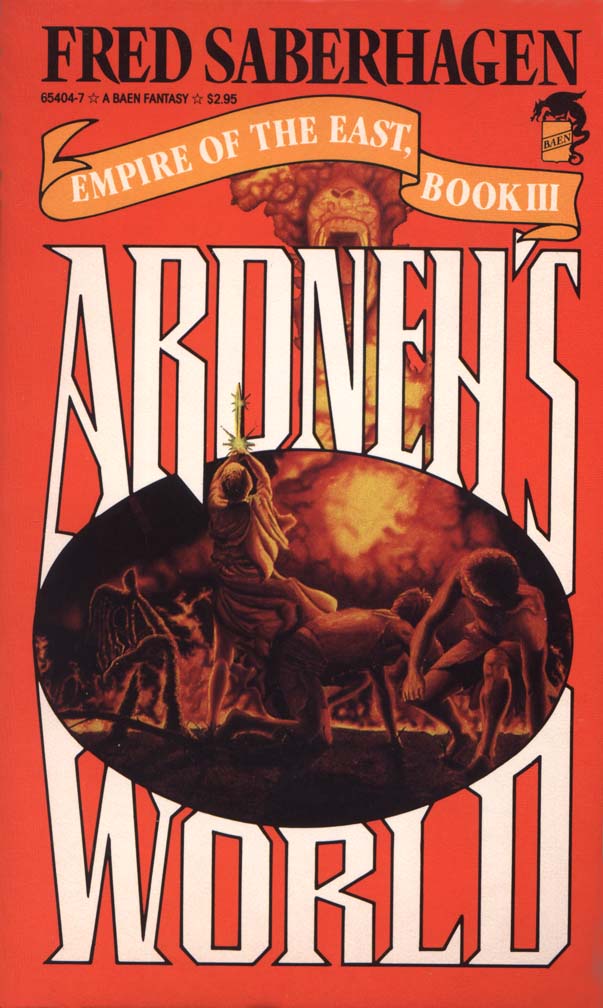 ---
Description

ARDNEH'S WORLD
by Fred Saberhagen
Published by Baen
Copyright (c) 1973 by Fred Saberhagen
Jacket art by: Greg West
ISBN: 0-671-65404-7

CHANGLING EARTH (alternate title for ARDNEH'S WORLD) published by Daw Books, 1973. ISBN:0-451-uq1041-095

DARLING, YOU'VE CHANGED

Her look seemed to say to him that his behavior was far from being unendurable; that, perhaps, if it went on a little longer it might even begin to give her pleasure . . .

He found her lips. He tenderly kissed her cheekbone before he began a line of kisses moving down her throat.

Wait! What was this upon her skin?

What had happened ---

What ---

With a cry Rolf sprang to his feet and backed away, almost falling in his haste. Before him now, and lately enfolded most tenderly in his arms was one of the most hideous human shapes it had ever been his ill-fortune to behold. What had been Catherine's healthy young face had altered while he kissed it to the visage of a withered, snaggle-toothed, misshapen crone.

Moving like some crippled sleepwalker, she tottered toward him. "Rolf?" she cawed out the one word, in something like a reptile's voice, and then her figure seemed to blur, and down she fell on hands and knees.

--From the Cover blurb.
---
Reviews

ARDNEH'S WORLD
by Fred Saberhagen

Raves for EMPIRE OF THE EAST:

The epic adventure of magic vs. technology reaches a searing climax!

"The most seamless splicing of SF and fantasy I've found since Bradley's 'Darkover' came into being." -- Isaac Asimov's Science Fiction Magazine.

"Ranks favorably with Tolkien. Exceptional in sheer unbridled zest and imaginative sweep. Saaberhagen's style is noteworthy for its detail, the depth and humor of his characterizations, and his ability to imbue even villains with wicked charm." -- School Library Journal

"I couldn't really put the book down and regretted every page turned because it made one page less to discover . . . EMPIRE OF THE EAST is the work of a master." -- Algis Budrys, The Magazine of Fantasy & Science Fiction.
---
A brief excerpt

ARDNEH'S WORLD
by Fred Saberhagen

To be posted.
---