HOME/ SWORDS/ BERSERKER

/ DRACULA/ SCIENCE FICTION / FANTASY /GODS




Fred Saberhagen's
GAMES

For a great site describing Fred Saberhagen involvement in gaming visit: Jason Finleys Saberhagen games at Jason's remarkably informative and aesthetically pleasing site Official Fan Site of Fred Saberhagen's Berserker

Universe.
Games by FLYING BUFFALO, INC.
BERSERKER,produced by Flying Buffalo Inc (Designed by Fred Saberhagen and Rick Loomis. Developed by Michael Stackpole and Ugly John Carver. A board game. A tactical space conflict game based on Berserker stories.)

STARWEB, by Flying Buffalo Inc
A play-by-mail game using the Berserker® character
Games by BERSERKER WORKS LTD.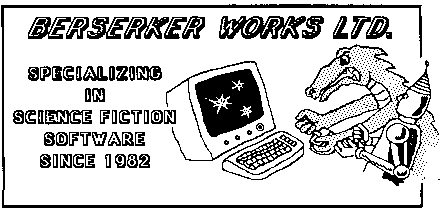 From 1982 to 1989 Fred and Joan Saberhagen designed, implemented, and distributed computer games. Our goal was to bring interactive fiction to the computer. Fred's characters and stories were are basic material. When we were forced to close our doors, three very interesting projects were still in the works, unfortunately never to be completed: an implementation of Fred's SWORDS books; an adaptation of Stephen R. Donaldson's short story ANIMAL LOVER; and a adaption of AFTERMATH/NUKE RAT based on a Gordon Dickson short story.

Initial backing for the enterprise came from Baen Books. The games were designed for home computers popular at the time, i.e. Apple II series 48k, Macintosh 512k, Commodore 64, Atari 400/800, IBM-PC, IBM-PC jr.

Berserker Works' main programming team consisted of Scott Walker, Dennis and Mary Martinez, Lloyd Johnson, Tim Villanueva, and Eddie Johnson. One sequence in WINGS OUT OF SHADOW was implemented by Eddie Goldberger.
The games are now collectors items. Or so we can hope.
So, for all you history of computers buffs, here's a list of all seven products designed and/or distributed by BERSERKER WORKS LTD.
WINGS OUT OF SHADOW. Based on a short story by Fred Saberhagen. Featuring strategy, tactics, adventure and arcade action.
BERSERKER RAIDS. Fred Saberhagen and Lloyd Johnson. The struggle for control of a ten-star cluster between the remorseless Berserkers and two human forces.
SIGN OF THE WOLF. An illustrated Berserker story. A non-interactive art gallery disc that combines a story with 32 breath-taking illustrations. Flip through pages, set a bookmark, or view your favorite scenes on demand. Certainly, one of the first attempts at electronic fiction.
PRIDE AND PREJUDICE. Designed by Jon Walter Williams. A Regency Romance of the Jane Austen era. Attend balls, hunts, and house parties. Spread gossip! Win the affections of a wealthy bachelor!! One to six players.
WIZARD WAR. Designed by Lloyd Johnson. Included a specially written story by Fred Saberhagen. Strategy, battles, and magic.
STAR BALL. Designed and implemented by Dale Koehler. A 3-D racquetball action game. Only production and distribution provided by Berserker Works.
ELECTRIC DRAGON. Programmed by Stephen Walton. An interactive Version of the I CHING is the authorized electronic implementation of THE I CHING or BOOK OF CHANGES. Only production and distribution provided by Berserker Works.