HOME/ SWORDS/ BERSERKER
/ DRACULA/ SCIENCE FICTION / FANTASY /GODS

THE DRACULA TAPE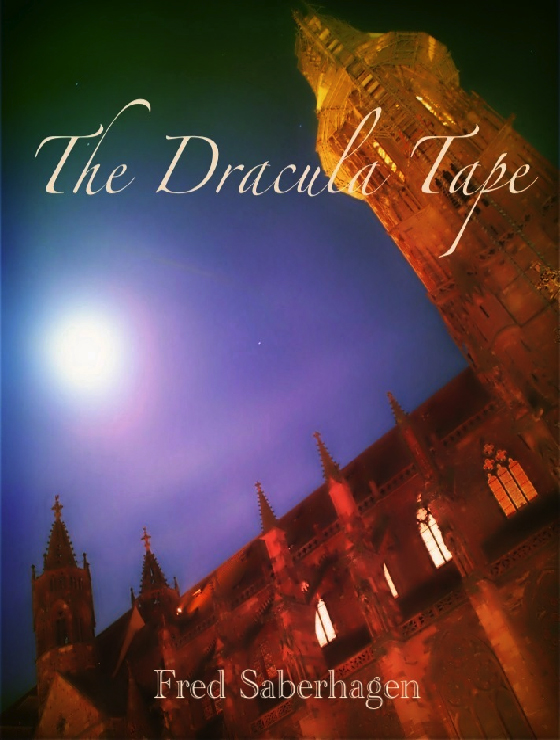 Available from Kindle, Nook and iBook.

Voted best vampire novel featuring Dracula by the attendees of DRACULA 97: A CENTENNIAL CELEBRATION held in LosAngeles and sponsored by the Transylvanian Society of Dracula, TSD.

---
THE DRACULA TAPE
by Fred Saberhagen
Published by JSS Literary Productions
Copyright (c) 1975Fred Saberhagen


Here is the story of the Count's greatest love, Mina Harker, and the bloodthirsty vampire hunters whose cruel pursuit drove the master of the night to actions even more ruthless.

Listen, as Count Dracula sets the record straight. . .
---
REVIEW:
Can it be that we've unfairly maligned Dracula? We're almost convinced of it after reading thse clever, wry (and you thought the Count was humorless), imaginative, maybe occasionally self-serving transcripts of his tapes in which at long last he breaks his silence about those dark events at Castle Dracula and in London involving Mina and Jonathan Harker, Drs. Seward and Van Helsing, Lucy western, et al. Quoting liberally from their respective journals, Vlad, as he likes to be called, shows how at variance their accounts are with what actually went on. The Count is not quite as full of the milk of human kindness as he'd like us to believe, but he's a persuasive devil. He'll have you cheering each time he outmaneuvers his pursuers. -- Publishers Weekly.
---
A Brief Excerpt
The following is a transcript of a tape found in a recorder in the back seat of an automobile belonging to Mr. Arthur harker of Exeter, two days after the freakishly heavy Devon snowstorm in January of this year. Mr. Harker and his wife, Janet, both suffering from exposure and exhaustion, were admitted to All Saints Hospital, in Plymouth, on the morning following the height of the storm. They spoke of abandoning their auto on an impassable road near midnight, but seem never to have given any convincing explanation for leaving the relative security of their vehicle at an hour when the storm was at its worst, nor of exactly how they reached Plymouth. All Saints Hospital is some thirty kilometers from where their car was found in a drift on the Upham Road, just outside St. Peter's Cemetery and virtually on the edge of Dartmoor. The Harkers' physical condition and the state of their clothing upon arrival at the hospital suggests that they may have walked across country. Their car was undamaged when found, and although all its doors and windows were locked the key was still in the ignition, which had been turned off. The petrol tank was approximately one-third full.
The general quality of the tape, and the background noises detectable thereon, are, in the oopinion of technical experts, consistent with the hypothesis that the tape was in fact recorded in an automobile, engine running at idling speed, heater and blowers operating, with gusts of high wind outside.
The Harkers dismiss the tape as "some joke," profess no interest in it, and refuse all further comment. It was first played by rescue workers who found the car and thought the recorder might hold some emergency message from its occupants. They brought the tape to the attention of highter authorities because of the references to violent crimes which it contains. No external evidence has been found to connect the tape with the alleged vandalism and grave robbing at St. Peter's Cemetery, now under investigation.
. . . this switch, then my words will be set down here electrically for the world. How very nice. So, if we are going to tell the truth at last, then what real crimes can I be charged with, what sins so utterly damning and blastable?
You will accuse me of the death of Lucy Westenra, I suppose. Ah, I would swear my innocence, but what is there to swear by that you would now believe? Later, perhaps, when you have begun to understand some things, then I will swear. I embraced the lovely Lucy, it is true. But never against her will. Not she nor any of the others did I ever force.
At this point on the tape another voice, unidentifiable, whispers an indecipherable word or two.
Your own great-grandma Mina Harker? Sir, I will laugh like a madman in a moment, and it is centuries since I have laughed, and no, I am not mad.
---