HOME/ SWORDS/ BERSERKER

/ DRACULA/ SCIENCE FICTION / FANTASY /GODS

THE VEILS OF AZLAROC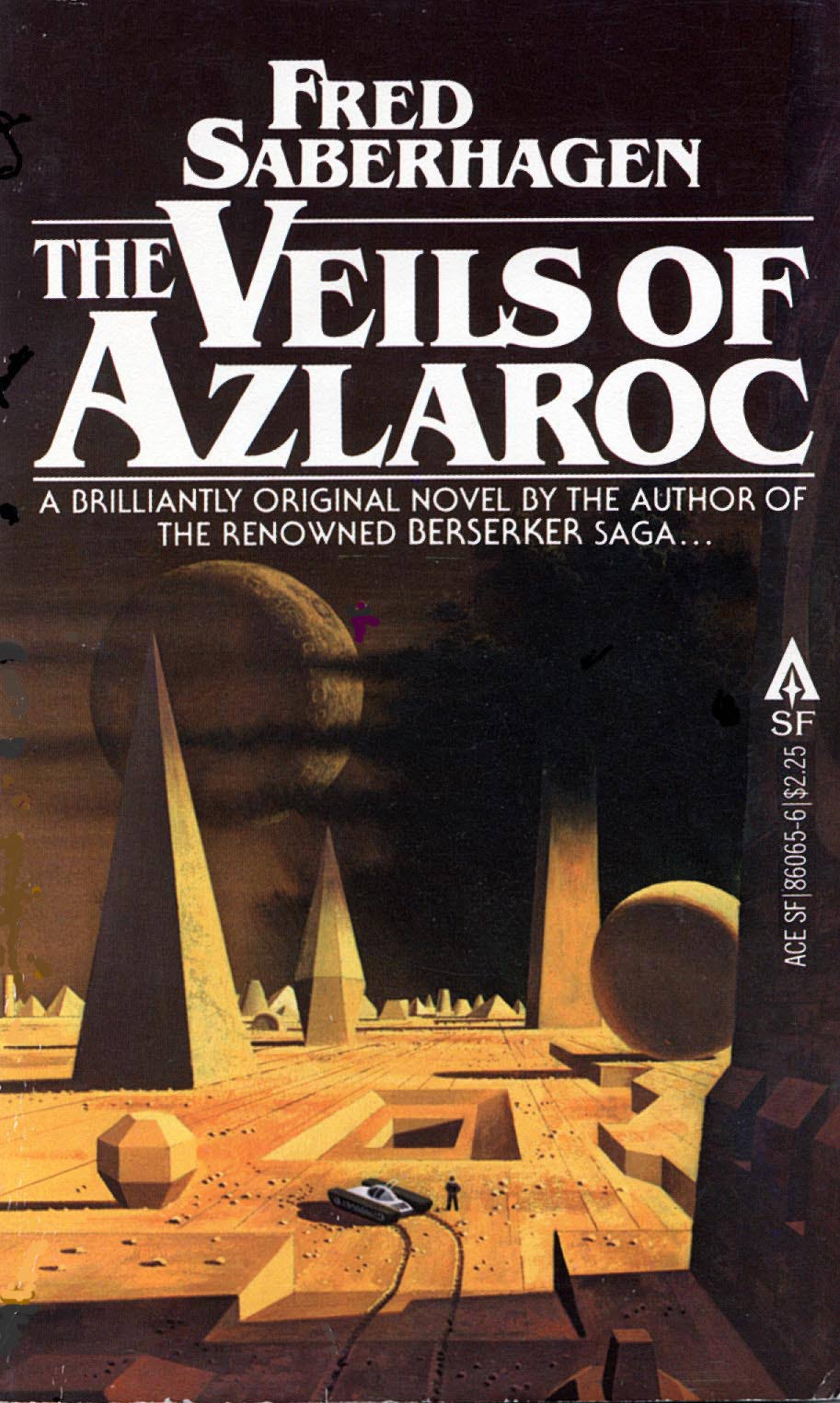 ---
Description
THE VEILS OF AZLAROC
by Fred Saberhagen
Published by ACE Books, July 1981. Reprinted by TOR® Books for The Otherworlds Club of Waldenbooks, 1987.
Copyright (c) 1978 by Fred Saberhagen
ACE Jacket art by: Unfortunately, no credit was given.
Baen/OtherWorlds Jacket design by : No credit given.


--- a planet to fire the imagination, where shimmering veils of pure energy fall at yearly intervals, sealing in everything -- and everyone - on its surface at that moment into a time "pocket".

IMAGINE . . . yourself as a settler, living in a translucent "pocket" that makes your life an almost ageless state, as time in each pocket passes so slowly that senility and death are meaningless concepts. Your immortality has a price; you have free interaction only with those of your "generation"; you see settlers from ten years before as blurred outlines. And a settler from fifty years before can walk right through you!

IMAGINE . . . yourself as a tourist, struck by the wonder of the shimmering planet, yet careful to heed the date of the next predicted veilfall, knowing that to be on Azlaroc at veilfall is to be there forever.

IMAGINE . . . yourself as the one man on Azlaroc who knows for a certainty that, this time, veilfall will come early, and without warning.

--From Cover blurb.
---
Reviews
THE VEILS OF AZLAROC
by Fred Saberhagen
Source an amazon.com reader
Date: Aug 7, 1998;

Review: An Easy Reading Story About An Amazing Little Universe
This short novel brings a life a most unique world and imaginatively brings together a number of characters from a multitude of different generations as a result of a mysterious physical phenomenon that annually can capture visitors to the planet and makes them prisoners in time. While not terribly dense or detailed, it reads easily and wraps the reader up in a special universe with intriguing interactions between characters, especially between generations. It is a magical, light book that will have you chuckling and sighing with sadness. It is about power, greed, lost romantic relationships, about the joy of acceptance, and the collision between people of different time periods. A fascinating story that has few parallels.
---
A brief excerpt
THE VEILS OF AZLAROC
by Fred Saberhagen

To be posted.

---