HOME/ SWORDS/ BERSERKER

/ DRACULA/ SCIENCE FICTION / FANTASY /GODS
SPECIMENS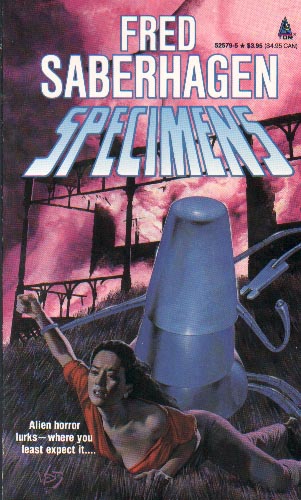 ---
Description

SPECIMENS
by Fred Saberhagen
Published by TOR® Books, August 1990. ACE 1981. Popular Library Fawcett 1976.
Copyright (c) 1976 by Fred Saberhagen
TOR Jacket art by:Wayne Barlowe.
TOR ISBN: 0-812-52579-5


First, strange odors . . . and nightmares that stretch across Time. Images of a hideous machine dragging Indians, colonials, slaves to an ancient mound . . . then a hellish light pulses from a hidden room . . . and suddenly dan Post is trapped, his mind sane, but his body possessed by a galactic probe programmed to collect - -

Specimens. Human specimens. Now, with no hands, no voice, locked in the ultimate prison, Dan must battle an immortal alien machine, even as it forces him to kidnap its final victims . . .

Dan's two children.

And his bride-to-be . . .

--From the TOR Cover blurb.
---
Reviews


SPECIMENS
by Fred Saberhagen

None available.

---
A brief excerpt

SPECIMENS
by Fred Saberhagen

To be posted.
---