HOME/ SWORDS/ BERSERKER

/ DRACULA/ SCIENCE FICTION / FANTASY /GODS

PYRAMIDS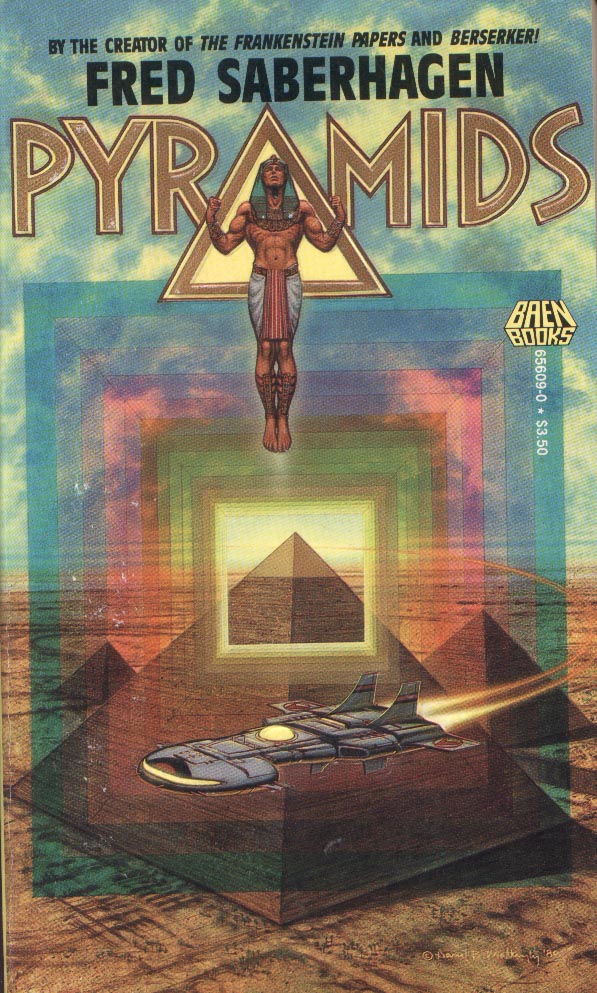 ---
Description


PYRAMIDS
by Fred Saberhagen
Published by Baen Books, Jan 1987
Copyright (c) 1987 by Fred Saberhagen
Jacket art by: David Mattingly.
ISBN: 0-671-65609-0


Tom Scheffler knew that this great-uncle, Montgomery Chapel, had made his fortune by selling ancient Egyptian artifacts that were finer than those in any museum. Scheffler also knew that -- fifty years later -- Chapel was still afraid of some man, some entity, known only as Pilgrim.

What Scheffler didn't know -- and would learn the hard way -- was that Pilgrim was coming back, aboard a ship that traveled both space and time, headed for a confrontation in a weirdly changed past where the monstrous gods of ancient Egypt lay in wait for grave robbers from out of Time.

--From Cover blurb.
---
Reviews


PILGRIM
by Fred Saberhagen

Source: Publishers Weekly
Date: Dec 5, 1986;


College student Tom Scheffler can't believe his luck when he gets to apartment-sit for his great-uncle Monty. The big, old place is filled with mint-condition Egyptian antiquities, and in short order Tom discovers a time machine through which his scholarly relative has transported the objects of art. Soon Tom himself journeys to the land of the pharaohs, which is all but deserted, the populace limited to a handful of local grave robbers and some aliens who need the puramids' hidden gold to power a spaceship. This alternate Egupt gets stranger and stranger, particularly when the monstrous dieties begin appearing--along with the spirit of the dead pharaoh whose tomb is being desecrated. Saberhagen's light, imaginative and enjoyable adventures speed along twisting paths to a climax that is even more surprising than the rest of the book.
---
A brief excerpt


PILGRIM
by Fred Saberhagen


To be posted.
---