HOME/ SWORDS/ BERSERKER

/ DRACULA/ SCIENCE FICTION / FANTASY /GODS
LOVE CONQUERS ALL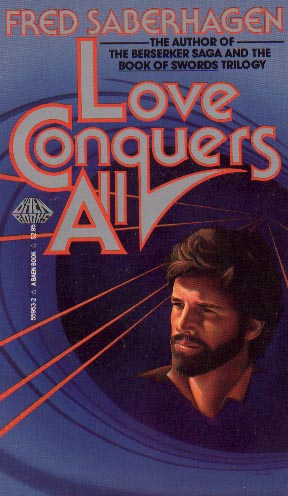 ---
Description


LOVE CONQUERS ALL
by Fred Saberhagen
Published by Baen Books 1985. Ace Books 1979.
Copyright (c) 1974 by UPD Publishing Corp. Revised edition (c) 1985 by Fred Saberhagen
Baen jacket by Susan Collins.

THE WORLD TURNED UPSIDE DOWN

YOU HAVE:
Sexual Freedom: There are no limits on where, why, when, how or with whom. The only dirty word is "No."
Freedom from Want: Zero Population Growth has been achieved and at last the world's resources have caught up with demand.

BUT YOU PAY A PRICE. Decency is a social offense, and the Right to Life of the unborn is zero -- even its mother cannot protect an "unauthorized fetus."

IS IT WORTH IT? Or is rampant, coercive liberalism the worst tyranny of all?

In the tradition of Brave New World and 1984, LOVE CONQUERS ALL is a realistic assessment of certain trends in our society taken to their logical conclusions: the result is a scathing science fictional indictment of our generation's most cherished shibboleths. This is iconoclasm in the grand style!

--From the Ace Cover blurb.
---
Reviews

LOVE CONQUERS ALL
by Fred Saberhagen
None available.
---
A brief excerpt

LOVE CONQUERS ALL
by Fred Saberhagen

To be posted.
---