HOME/ SWORDS/ BERSERKER

/ DRACULA/ SCIENCE FICTION / FANTASY /GODS

THE GOLDEN PEOPLE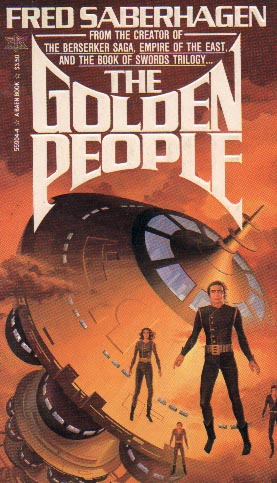 ---
Description

THE GOLDEN PEOPLE
by Fred Saberhagen
Published by Baen Books September 1984. Baen Books October 1987.
Copyright (c) 1984 by Fred Saberhagen
1st printing Jacket art by: Alan Gutierrez.. 2nd printing jacket art by Craig Farley.
2nd printing ISBN: 0-671-65378-4

The Road To Hell Is Paved With Good Inventions . . .

Emiliano Nowell was a world-class genetic engineer. He was also a wealthy and idealistic man with the time and money necessary to follow his dreams. In secret laboratories far from Earth he used his powers to create one hundred genetically perfect children . . . an enlightened cadre Nowell hoped would lead humanity out of that maze of war, famine, torture and death called History.

But the Golden People proved to be more intelligent than even he believed possible. Among other frighteningly advanced talents, they had the power to mentally influence normal humans. Now, one of them has become the group's secret leader. His goal is not to help humanity -- but to replace it.

--From Cover blurb.
---
Reviews

THE GOLDEN PEOPLE
by Fred Saberhagen

Source:Publishers Weekly
Date: July 13, 1984


Though best known for the Berserker series of space operas written early in his career, Saberhagen's first novel was The Golden People, published in 1964. Twenty years later, reworked, and expanded, it is still the straightforward, old-fashioned SF that made his reputation. Space explorer Adam Mann is on the first expedition to the planet Golden, the only one Earth has found with intelligent life. Its natives are primitive, but the planet is enveloped in an impregnable force field that renders all high technology inoperable. The puzzle provokes the genetically engineered Jovians (of which Adam learns he is one), who consider the field-builders a challenge to their own superiority and psi powers.
---
A brief excerpt
THE GOLDEN PEOPLE
by Fred Saberhagen

To be posted.
---