HOME/ SWORDS/ BERSERKER

/ DRACULA/ SCIENCE FICTION / FANTASY /GODS
THE FRANKENSTEIN PAPERS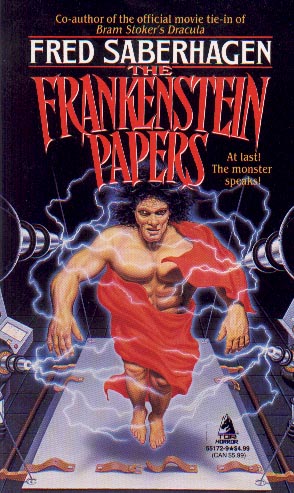 ---
Description

THE FRANKENSTEIN PAPERS
by Fred Saberhagen
Published by TOR® Books, December 1994. Baen Books, October 1986..
Copyright (c) 1986 by Fred Saberhagen
TOR Jacket art by: TK.
TOR ISBN: 0-812-55172-9


Lightening and thunder flashed over Bavaria as, in his private laboratory, Victor Frankenstein struggled to bring to life a creature constructed from pieces of the dead -- only to find himself confronted by an inhuman monster beyond his control.

Mary Shelley's Frankenstein, as well as countless horror movies, has made the legend of Frankenstein and his monster famous throughout the world. But what really happened on that dark and stormy night -- and in the terrible months that followed?

Now, in his own words, the monster reveals the true story of his strange existence. From his harsh awakening in the lab to his desperate struggles in the Arctic, here is a stunning, firsthand account of the tormented relationship between the monster and his creator -- as you have never read it before.

--From the TOR Cover blurb.
---
Reviews

THE FRANKENSTEIN PAPERS
by Fred Saberhagen

Source:Publishers Weekly
Date: Jan 3, 1986


This novel picks up where Mary Shelley's classic tale left off, continuing the narrative from the monster's point of view. Through flashbacks in the monster's journal, Saberhagen also rescrambles the original story in such a way that the monster is absolved of the murders of Victor Frankenstein's brother William and fianceé Elizabeth. The monster sets off on a quest for his own identity that takes him from the Arctic and his first sexual experiments with an "Esquimeaux" to a meeting in Paris with Ben Franklin, whose experiments with electricity led Frankenstein to attempt the monster's initial animation. Throughout, the irrationality of the monster's sheer existence is set against the values and science of Enlightenment Europe. In the tour-de-force ending, rationality triumphs by means of a neat science-fiction twist.
---
A brief excerpt

THE FRANKENSTEIN PAPERS
by Fred Saberhagen


To be posted.
---