HOME/ SWORDS/ BERSERKER

/ DRACULA/ SCIENCE FICTION / FANTASY /GODS

Gene Roddenberry's
EARTH FINAL CONFLICT:THE ARRIVAL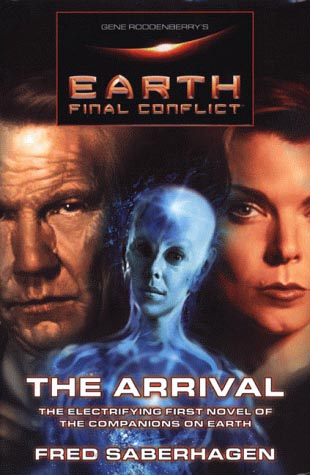 ---
Description

Gene Roddenberry's EARTH FINAL CONFLICT THE ARRIVAL
by Fred Saberhagen
Published by TOR® Books, Dec 1999.
Copyright (c) 1999 Tribune Entertainment Company and Alliance Atlantis Communications Inc.
ISBN: 0-312-87302-6

In a time of secrets and mysteries, Jonathan Doors remains one of the biggest enigmas. When the Taelons arrive on Earth and take their place as humanity's Companions, Doors is one of the first to welcome them. Using his power and influence, he helps introduce the aliens to our world. Then he suddenly fakes his own death and goes underground to lead the Resistance as the Companions' greatest enemy. Why?

In the days following the taelons' arrival, the story of the secretive multibillionaire is finally told and truth is exposed. Working at first to ensure peaceful relations between the human race an the newly landed aliens, Doors also hopes to find something in the aliens' technology that will free his wife from the grip of a terrible disease. But when his father reveals secrets from his own past, Jonathan Doors will discover the true price of cure -- and the Taelons' dark plans for Earth . . .

--From Cover blurb.
---
Reviews
Gene Roddenberry's EARTH FINAL CONFLICT: THE ARRIVAL
by Fred Saberhagen

Source: amazon.com reader
Date: Dec 6, 1999;


Review:Companion Mystery

I am a big fan of the television series, Gene Roddenburry's Earth: Final Conflict, and personally I would have found myself reading this book one way or another. I was happily surprised, though, by both the ability of the author to accurately portray the Taelons, and by the actual basis of the story. At first review, I believed the novel would span a much longer period of time after the arrival of the alien Companions. As I found out, half of the book is actually spent in a flashback that yields incredible information about both the Taelons and another mysterious type of being that I had not known about previously through the TV program. This past-tense adventure, told through the eyes of Jonathan Doors' father, is an insightful tale in itself, bordering on fantasy slightly more than science fiction. Then, following Jubal Doors' confessional, occurrences in the present begin to uncannily equate to those from the past. Pure action encompasses the better part of the conclusion of the novel, and thus the reader knows what Jonathan Doors truly stands for. As was Gene Roddenburry's ongoing intension, the mystery of alien abilities never ceases throughout the tale. I would highly recommend this book to anyone interested, whether or not the reader has knowledge of the show on TV. Of course, I believe that having watched the show since its premiere made this first tale of The Arrival even more comprehensible, and certainly much more intriguing.
---
A brief excerpt
Gene Roddenberry's EARTH FINAL CONFLICT: THE ARRIVAL
by Fred Saberhagen

Coming soon.