HOME/ SWORDS/ BERSERKER

/ DRACULA/ SCIENCE FICTION / FANTASY /GODS

COILS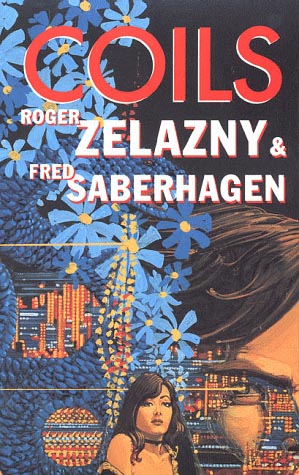 ---
Description
COILS
by Roger Zelazny and Fred Saberhagen
Published by Wallaby May, 1982.. TOR® Books, Nov 1982. Penguin, 1984.
Copyright (c) 1982 by Amber Corporation and Fred Saberhagen
Wallaby Jacket art by: Howard Chaykin.


COILS

The Ultimate mind game, leading through a maze of espionage, corruption and terror.

Donald Belpatri must unlock the secret sins of his past. His beautiful young lover has been kidnapped, and only by journeying back through the mists of memory and into waking nightmare can he save her. He will have to rediscover the extraordinary and dangerous power he possesses . . . the power to cross over the interface between mind and computer.

Years ago, the Angra Energy Corporation exploited Belpatri, using his powers to satisfy their greed. Now, Angra Energy wants him back, and they'll hold his woman hostage until they have their man. But this time Donald is determined to fight Angra -- and win. Once again voyaging down through the spirals of mind into the coils of computer consciousness, he will meet the enemy on the battleground of his brain.

All the elemental forces of body and mind clash as Belpatri wages war on two fronts -- facing the violence of Angra's merciless hitmen and the shattering, unknown impulses of the computer's dark infinities.
---
Reviews
COILS
by Roger Zelazny and Fred Saberhagen

Source: Time Out
Date: 17 Jan 1985;
Review: The splendidly named Zelazny and Saberhagen get together on a fantasy which proves a much more successful exercise in collaboration that the recent Stephen King and Peter Straub effort, 'The Talisman'. Plot concerns a man whose mind can coil into the memory bank of any computer. Style is John D. Macdonald filtered through Michael Crichton. Recommended.
---
A brief excerpt
COILS
by Roger Zelazny and Fred Saberhagen

Coming soon.
---